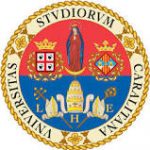 The University of Cagliari, Department of Mechanical, Chemical and Material Engineering (DIMCM), has gained a wide experience in gasification and CCUS technologies, with several works on process simulation, electrochemistry and integration of CO2 capture technologies with renewable sources. DIMCM is a partner of the Summer School since its first edition in 2013.
IEA Clean Coal Centre

is a technology collaboration programme, mandated by the International Energy Agency. Supported financially by national governments (contracting parties) and by corporate industrial organisations (sponsors), IEA CCC is dedicated to providing impartial information and analysis on how coal can become a much cleaner source of energy. The Clean Coal Centre also provides independent information and analysis on all coal-related trends compatible with the UN Sustainable Development Goals.


CO2GeoNet is the European scientific body on CO2 geological storage. CO2GeoNet was created in 2004 as a Network of Excellence supported by the EC FP6 programme for 5 years. In 2008, CO2GeoNet became a non-profit association under French law. The not-for-profit Scientific Association currently comprises 29 research institutes from 21 European countries and brings together over 300 researchers with the multidisciplinary expertise needed to address all aspects of CO2 storage. With activities encompassing joint research, training, scientific advice, information and communication, CO2GeoNet has a valuable and independent role to play in enabling the efficient and safe geological storage of CO2.


ECO-BASE Project. Commercial utilization of CO₂ is one of the mechanisms to create a business case for the CO₂ storage and CO₂- EOR (Enhanced Oil Recovery) is currently the only process capable of continuously utilizing and storing large CO₂ volumes. ECO-BASE project will support large scale CCUS deployment by developing business models for CO₂-EOR in South Eastern Europe (SEE) on the example of three local countries: Turkey, Romania and Greece with support from TNO, the Netherlands and IRIS, Norway. The main goal of the ECO-BASE project is to demonstrate the ability of CO₂-EOR to economically enhance oil production in the region and serve as a revenue stream for safe and reliable permeant CO₂ storage.

ECCSEL, the European Carbon Dioxide Capture and Storage Laboratory Infrastructure, is a permanent pan-European distributed research infrastructure, ERIC (European Research Infrastructure Consortium), with its Operation Centre located in Trondheim (Norway). Through the five founding member countries (France, Italy, the Netherlands, UK and Norway), ECCSEL offers open access to more than 55 world class CCUS research facilities across Europe, owned by several service providers: BRGM, Andra, EDF Group, IFP Energies Nouvelle and Ineris (France), NTNU, Sintef AS, Sintef ER and Institute for Energy Technology (Norway), TNO (The Netherlands), British Geological Survey and PACT – the Pilot-scale Advanced CO2 Capture Technology (Regno Unito), OGS, Enea, University of Bologna and Sotacarbo (Italy).